Alex's Last Leg of the Journey
21 November 2017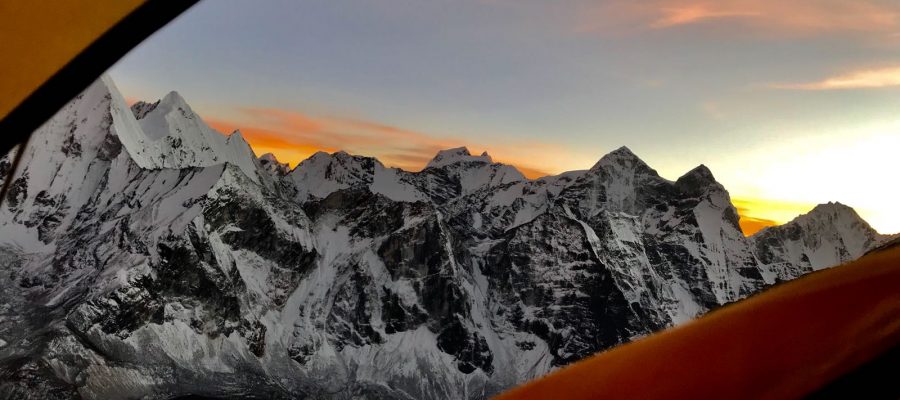 The last leg of Alex's Himalayan trek has come to an end and she is on her way home safe and sound, we look forward to seeing her and hearing more about her adventures.
Wednesday 15 November

Update from base camp. Last time I messaged you I had to go down to the next village. It was partly my decision as my face was badly swollen but initiated by the guide. He got an email from the expedition owner to send me down to Namche and to tell me my expedition was over. (Quite harsh for having a puffy face) after spending the night at Pangboche and drinking more water than I could I felt better the following day and came back to base camp. By then my team mates had left for camp 1 leaving me a day behind. They thought I was going to throw the towel jn but I felt stronger than ever to go back up climbing.

They demanded the Sherpa guide to go up with them however that would have meant that I was gonna be a day behind them and on my own. Tashi decided to stay with me So we can head up the following day. Something else happened on Saturday. A Red Bull sponsored Russian jumped off from the top, his parachute didn't open properly and died. His mate was meant to be jumping too but backed off! Rescue tried to pull him out but his body was smashed into the rocks and fell again. It took another day and another attempt to get him out.

On Sunday Tashi and J headed up to camp 1 ( it's really not a nice climb and so bloody long) by then one of the Slovenians turned back and quit and the other with our guide went up to camp 2. All good with us we followed them and got there yesterday afternoon. They tried the summit but the wind was so bad at camp 3 they took shelter in the Russians tents and turned back. It was all eyes on Tashi and I. We made it to camp 2 too and rested till 5, had dinner and tried to sleep. Since our company didn't bother establishing camp at camp 3 we had to attempt from camp 2. We started getting ready for the summit push at 8pm for a 9pm start but the winds kicked off. We were listening to it for hours, too dangerous to leave the tents.

I told Tashi we should decide at midnight. If the winds calms down we try the summit. I felt great and really wanted to give it a shot. Next thing I realise it's 1:24am and every quiet outside. I woke up Tashi and he said it was too late to leave. Absolutely gutted 🙁 I couldn't even sleep after so on zero sleep we descended back to base camp today breaking down two tent on our way arriving back looking like Xmas trees. I had a couple of out of body experiences, exhausted.

A well needed rest day. we've just had dinner (last supper on the mountain base camp ) and are sat in the dining tent with big jackets on. The Slovenians playing a dice game, guide is busy kn his phone. When the sun goes down it's freezing 🙂 Last night in the sleeping bag in tent. Porters are coming tomorrow to grab our duffel bags which we'll meet in two days when we get to Lukla but first Namche tomorrow (took us 2 days to get here from there but we'll do it in one on the way back) about 17kms away. I'm planning to run part of the route just to keep the legs ticking over. I have way to much energy left.

Friday 17 November

After a two-day trek out (including some running with backpack on, too much energy left!) I'm finally in Lukla, a village at 2800m. We'll fly back to Kathmandu tomorrow morning.

A part of me is sad to leave the mountains but I had a great couple of weeks and learnt so much about myself and even more eager to come back next spring and attempt Everest.