Alex's Himalayan Trek continues
10 November 2017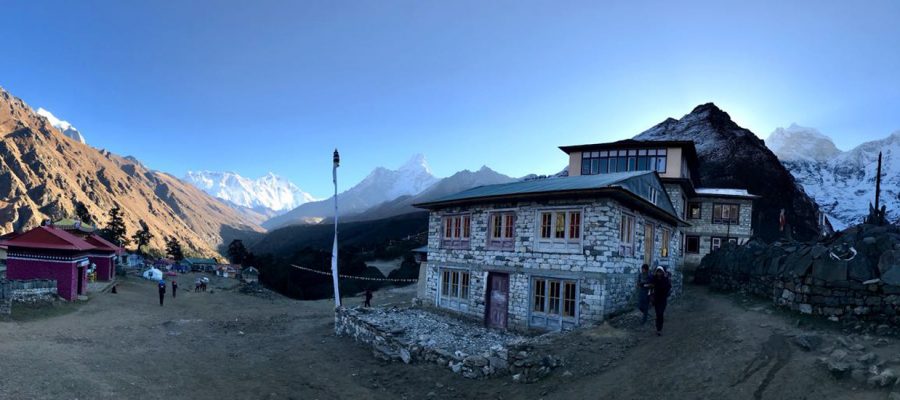 Its great to hear from Alex on her hike in the Himalayas, she is well and sounds like she is having quite the adventure, we at Park Accounts are very proud of what she has achieved.
Friday 3 November

Bittersweet day today. We arrived at base camp at the same time as a rescue helicopter. I watched it taking off with a rescue guy hanging at the bottom of the rope (British heli pilot) and they went to bring a dead body back. I saw when they brought it back and wrapped it up. I've never seen anything like that before ???? then the heli went back 2more times to bring Japanese climbers down from camp3 (=top camp) both alive. Weather has been unstable and very cold – we heard it from other climbers. In a couple of days there's a very high wind coming for a few days so from tomorrow we're gonna start talking about plan. On the positive side, I'm feeling good and after ascending from 3900 to 4500 today we even went up to 4845 after lunch today. By dinner time 2 successful polish climbers joined the base camp team and now we have the 4 of us plus an elderly man and lady from Slovenia who Also summited, Magda and Tom from plans who came back from camp 1 to recover and and a Dutch guy whose friend is attempting the summit. There's also an elderly chap from Oz who came to the dnjng tent with a massive pain so the polish climbers gave him Pain killers.

Saturday 4 November

Last night's sleep wasn't as bad or cold as I expected. I think i managed to get a good 4 hours sleep! I got out of the tent at 6am to Pee and went for a short walk to check phone reception and enjoy the beautiful sunrise. We saw off the elderly Slovenian couple after breakfast , the guy had a frost bitten toe so they took the heli back to Kathmandu.

We spent the morning hanging around the dining tent, fixing crampons, eating, drinking, sunbathing.

Sunday 5 November

We hiked up to ABC at 5400m. It was a very slow walk and we thought we may even push to camp 1 but decided to stay at ABC and have lunch here. Just checked our heart rate 96 and o2 level 86%.

The way down was much easier and we bumped into quite a few people coming down from the summit with heavy packs. Spent the afternoon in the dining tent celebrating with the Belgium guy who just returned and the polish guys brought some rum out and we all had a cheeky shot with Coca Cola. Alcohol definitely tastes stronger at altitude!

One thing is for sure, this is a tough mountain and everyone we speak to who climbed it says how hard it was. And these are folks who climbed 8000m peaks, bivouacked on the north face of the eiger and have many many years of experience.

Arriving to base camp without acclimatisation was also a poor organisation by EST and it may even cost us the chance to push higher. Even getting to ABC today was a struggle and it was just a walk.

Monday 6 November

We had our pudja ceremony and said farewell to pretty much everyone at camp jr was nice to have the rest of the day off checking gear etc.

Tuesday 7 November

We moved up to camp 1 which was a very long day, 7 hours and almost 1200m elevation gain. Camp 1 is set up on big rocks and due to lack of space, 3 climbers are squeezed into one tent. The altitude hit me hard as we carried gear up but the views from up there were stunning. By 6pm we already had dinner and by 6.20 we were in our sleeping bag head torches off. And this js when I started feeling unwell.

At first i thought it was just exhaustion and my breathing would calm down but it didn't. We had a 6am wake up call to climb up to camp 2 which meant almost 12 hours in the sleeping bag having breathing problems. On my left was our climbing Sherpa Tashi, on my right our supposedly guide Peter. He didn't give a shit about me while Tashi was checking my temperature, pulling the sleeping bag hood over my head to keep me warm and asking if I was ok. It was the strangest feeling. I was knackered and wanted to sleep but every time I was about to drift my breathing stopped and I had a fit. I wasn't comfortable horizontally and when I sat up my back was cold from the sweat and couldn't breath properly anyway. We were due to leave at 7am but I think it was around 8.15 when the guide and my two teammates left after they had breakfast. I got ready too but didn't feel good so went back inside the tent and had a good 40minute sleep. Tashi and I set off at 9.30am. By this point the sun was beating down hard as we were climbing the rocks. Around 12pm we decided he would push on to camp 2 and I turned around before the hardest part of the whole climb, the yellow tower. It's a vertical rock wall without anywhere to grab or hold so you have to pull yourself up the rope. Our guide was making his way back so I joined him on the way down. The way he was descending looked embarrassing and you wouldn't say he is a mountain guide with experience (sadly I found out he doesn't have much) anyway getting back to camp 1 was hard enough but from there we came all the way back to base camp. I was sooo tired coming back wearing B3 alpine boots when I got back to base camp I could hardly eat. At least slept a bit better!

Thursday 9th November

I spent most of the day inside my tent only came out for food. Having a combination of a mild altitude sickness and a nasty cold so thank god today and tomorrow is rest day at base camp. We've been keeping an eye on the weather but from tomorrow the wind picks up (70-90km/h and -35 on the summit) all the way till the 16th. Our summit day was meant to be the 13th. We'll get weather updates tomorrow (Friday the 10th) The other main issue is (besides that we are not properly acclimatised) is that camp 3 (last camp before the summit) was not established because of an avalanche last year. However the IMG team had 7 Sherpas who out tents for them up at camp 3 and they summited this morning but also took the tents down. We only have 1 Sherpa so we will have to push from camp 2 IF we get the weather window.